Our Mission
Lostra Realty IS DEDICATED TO PROVIDING TOP NOTCH REAL ESTATE SERVICE BASED ON THE HIGHEST STANDARD OF ETHICS, VALUES AND CLIENT CARE. WE WILL EARN THE LOYALTY AND TRUST OF OUR CLIENTS AND CUSTOMERS BY DELIVERING EFFECTIVE, EFFICIENT, RESPECTFUL SERVICE WITH INTEGRITY AND ACCOUNTABILITY. PLACING OUR LIFELONG CLIENTS INTERESTS AHEAD OF OUR OWN.
Our Service
To provide clients with the level of personal service that will bring them the comfort and confidence they need at each stage of the purchasing or sales process. It's our job to understand the clients needs and respond to them promptly, professionally, and with the highest level of professional ethics and integrity. The relationship between agent and client is truly one of trust, and our practice is to listen, hear, and truly understand their needs in the buying and or selling of their property. Real estate professionals are considered experts in the industry and it is our job to educate, inform and include our clients about the process. Lostra Realty is Bridging the Gap Between Real People and Real Estate.

Our Credientials
With every transaction and client, we follow a seven-point principle of CORE VALUES that you'll come to know well in working with us:
Truth – We honor and impart principles of truth and integrity. In all our business dealings, we strive to be friendly and courteous, as well as fair and compassionate.
Counsel – We share our market knowledge to ensure you have the tools to locate a property that fits our clients criteria. We also are with each client at each step of the contract process to keep their best interest a priority.
Integrity – We do the right thing, not the easy thing. Our work with our clients is special.
Partnership – Teamwork is paramount in all that we do, in our relationships with clients, other agents, lenders, appraiser, inspectors and with alliances and with the community.
Communication – We have clarity in understanding our mission and our goals. We seek first to understand…we listen.
Excellence – We relentlessly pursue continuous improvement and excellence in projects, products, processes, and services, and define success as finding or selling something special for our customers in the land of the free because of the brave.
Success – Lostra Realty is successful because we serve our clients successfully. It's a win-win philosophy that works for us – and our clients and customers.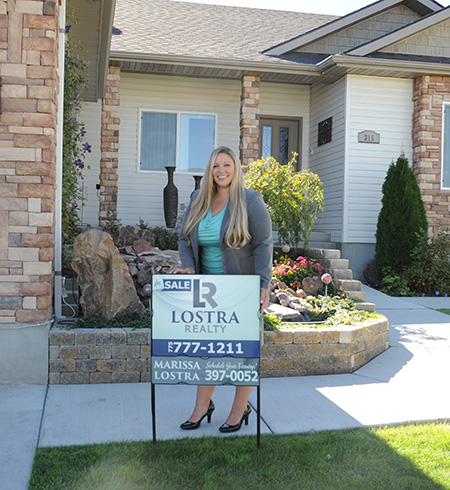 Our Company History
Marissa McConnell Lostra is a Nevada native and has been an Elko resident for over 30 years, she graduated from Elko High School in 1997. She then attended Great Basin College and received her Associates Degree in Science in 1999. Marissa attended and graduated from the University of Nevada, Reno, with her Bachelors of Science Degree in Biology in 2003. In 2006, Marissa obtained her real estate license, was a broker salesman in the business for 8 years before becoming the proud Broker/Owner of Lostra Realty. She has obtained her Business Opportunity Brokerage Permit (2007), Property Management Permit (2014), she graduated in 2009 from Nevada Association of REALTOR® Leadership Program and continues to expand her real estate credentials. She is currently the 2018 President Elect for the Elko County Association of REALTORs®.
Our Team of Spectacular People